Runners and Varieties in General
There have been a number of really good questions about runner versus virginia market types as well as variety performance in general. My most recent set of data is in 2012 Peanut Information for this. I was also in a meeting in South Carolina yesterday and Jay Chapin presented a good summary of his work comparing these varieties. Pat Phipps and Jay will also have information in the upcoming edition of Virginia-Carolina Peanut News (these are in the mail if you have not already received a copy) and Maria Balota also has done work with runners.
I would always recommend that growers plant at least three varieties, and the three varieties need to match field history, irrigation, and total acreage and ability to dig on time. It is impossible to give you a list of three without asking some questions.
My view on the runners has been that we can grow them and they perform as well as our virginia types. I think runners that are now being pushed are Georgia 06G, Georgia Greener, and Georgia 07W. Last year and in previous years Florida 07 and AP-4 were the runners of choice by the shellers. Here is a summary of yields from Jay's presentation yesterday (yield in pounds/acre pooled over 4 years, 2008-2011):
Georgia 06G – 6002
Florida 07 – 5390
Georgia 08V – 5950
Bailey – 5802
CHAMPS – 5547
NC-V 11 – 5404
Contract for high oleic runners is $675 while "regulars" are at $650 – virginia types are at $700. If someone wants to grow peanuts, they ought to sign a contract real soon – unless they want to grow with no guaranteed price for this fall.
Jay concluded that with the yield potential of the new runners, say the Georgia 06G (Georgia Greener and Georgia 07W have also performed well,) he sees a slight advantage to the runners over the virginia types from an economic perspective and a management perspective. This would be especially true under non-irrigated conditions (smaller seed and less need for calcium.) Note that we need to apply calcium to the runners we are now growing, but calcium deficiency and water deficiency often go hand-in-hand. Also, the runners will definitely hold on better than the Virginia types when it comes to digging.
With all this said, we are primarily producers of virginia types and that is where the contracts will be for the most part. But some growers have been approached to grow runners, and at these contract prices and performance of these varieties there does not seem to be a down side to doing so. The Georgia 08V (Virginia type, see Jay's yields listed above) has looked good in my program (sorry, those yield data are in the 2011 book…we did not have that variety in trials in 2011 but will make sure we have it in 2012 research.) It is a high oleic virginia type.
See tables with yields listed below: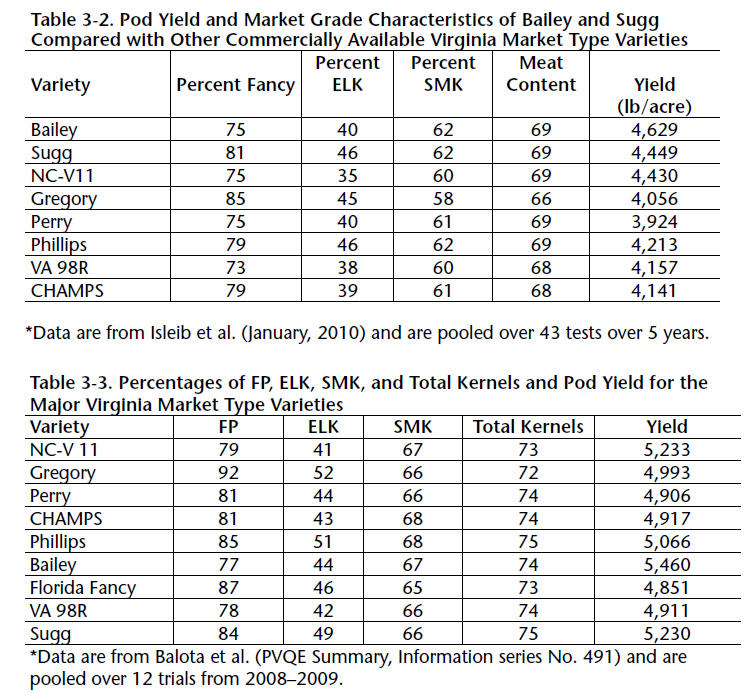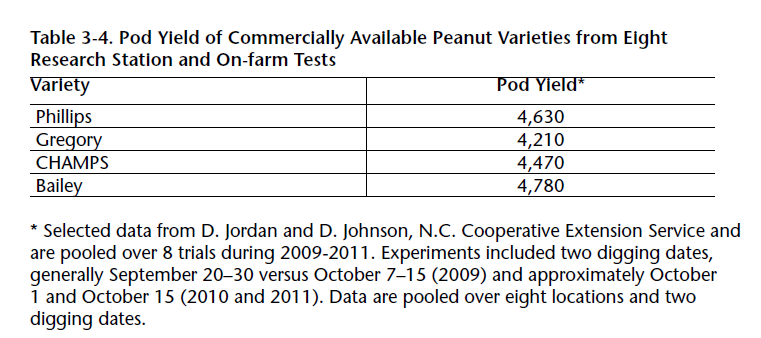 Article first appeared as North Carolina Peanut Note (PNNC-2012-005)