Injury Images
Find this article at:
go.ncsu.edu/readext?321308
Here are a couple of images from this past week. 
1. This is most likely the "yellow flash" often observed after Cadre is applied, generally in the first 3-5 days. It is transient and peanuts recover quickly. Initially carryover from Bicep in late-planted grain sorghum was suspected. There is also some thrips feeding. If these stay yellow one may have to reconsider the cause (image provided by Al Cochran).
2. This most likely is Bicep sprayed directly on the peanut field before they emerged. The yellowing may be caused by atrazine. The lower leaves have been burned completely off and they generally have the standard triazine symptomology. Some of the intermediate leaflets do appear to have atrazine symptoms. Bicep application to the field has been confirmed. There is some typical Storm injury (acifluorfen component) on the intermediate leaves as well. Without the lower leaves the upper yellowing looks like glyphosate. Atrazine can carryover on occasion but not very often. Direct application of atrazine to peanut can be injurious but this is extreme. Valor was also applied and the combination of atrazine and a PPO herbicide caused severe damage. Many of the peanuts already had died in this field (image provided by Art Bradley).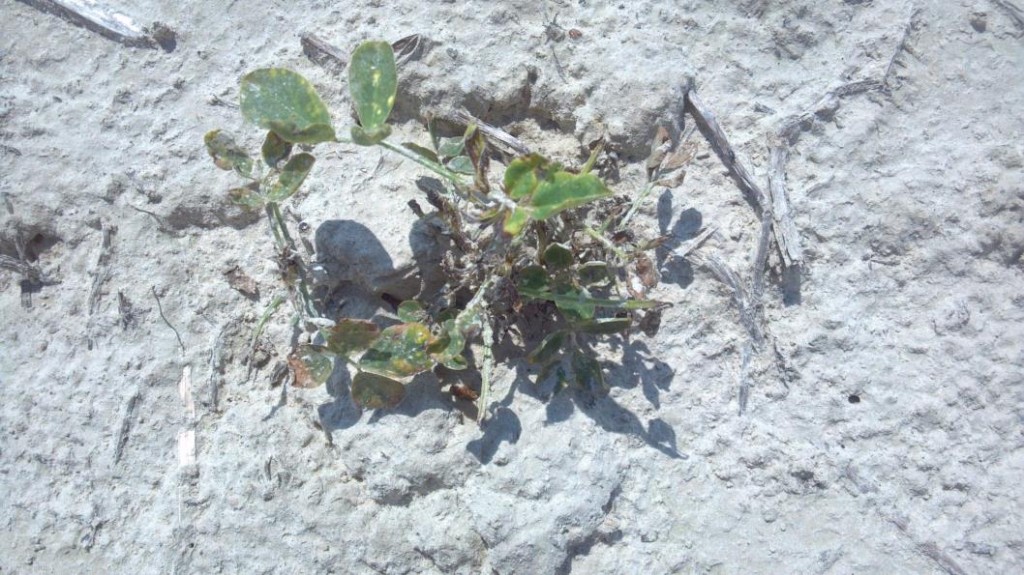 Article first appeared as North Carolina Peanut Note (PNNC-2014-073)