Crop Summary – August 18, 2014
 Temperatures have been cooler than normal during the past few weeks and in general for the month of August. Heat unit accumulations with a base of 56 F and a ceiling of 95 F for 2009 to 2014 are provided in Table 1 from data recorded at Lewiston-Woodville in the northeast region of the North Carolina. Heat unit accumulation in the lower V-C will be slightly higher. Temperatures have increased to normal levels and are forecasted to be at normal levels during the coming week.
Rainfall during this period was also adequate for continued peanut growth and development but in some cases was excessive. However, most peanut fields are relatively well-drained and water moved off of fields quickly.
Stem rot and leaf spot have been controlled well with fungicides and from partial resistance to these pathogens causing these diseases. In the mid and upper V-C region, Sclerotinia blight outbreaks have been widely reported (Images 1-3). These outbreaks were the result of wet fields and lower than normal temperatures. Most growers were able to stop epidemics by using appropriate fungicides for this pathogen, however, stocks of Omega 500 were limited and have been exhausted across the region. Other fungicides have been used when available (Endura and Fontelis) in place of Omega 500. There is concern about lingering problems associated with this disease if cool temperatures return to the region and fungicides are not available. With the exception of this issue, which most likely has occurred on 10-15% of total acreage in the V-C region, peanut vines are in good shape and should remain healthy going into harvest season.
Some tomato spotted wilt has been noted in fields but has been relatively minor to date (Images 4 and 5). Leaf spot of unknown origin has been noted in many fields but has been relatively low in both incidence and severity (Images 6 and 7) and most likely will have minimal impact on peanut health. The cause of this particular issue is being addressed by research and extension scientists in the V-C region. With the exception of some concern about slower maturation during the past few weeks due to cool and cloudy conditions, the peanut crop in the V-C region continues to progress well (Images 8-13). Pod maturity has increased over the past two weeks (Images 14a and 14b). Vine health remains good and in some cases growers have applied Apogee to minimize excessive growth (Image 15).
There are 6 to 8 weeks remaining for the 2014 peanut crop in the V-C region. Peanut in the V-C region continue to be poised to yield well depending on weather. Acreage projection is 200,000 acres or 81,000 hectares in the region (slightly higher than previous projections). Average yield potential is estimated at approximately 4,000 pounds per acre, slightly higher than previous projections.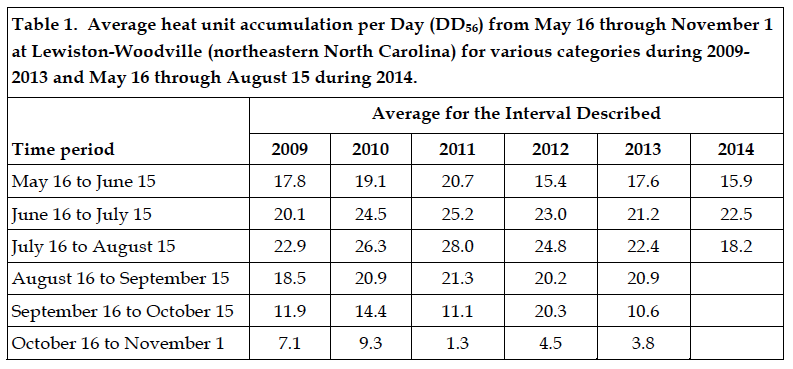 Article first appeared as North Carolina Peanut Note (PNNC-2014-125)