Crop Summary September 4, 2014
Find this article at:
go.ncsu.edu/readext?319252
Temperature has reached normal levels over the past 2 weeks and is forecasted to be normal over the coming week. Rainfall during the past two weeks has been limited in some areas of the region and stress during the peak of the day has been noticeable. However, rains during the last few days, while inconsistent, have helped in some areas. Soil moisture in many areas of the region is adequate to allow peanut to continue pod maturation but in some areas rainfall will be needed within the next two weeks to complete pod development. Heat unit accumulation has increased during the past two weeks compared with late July/early August readings (Table 1). Although there is some concern over the cool period in early August, this most likely will have a minimal impact on pod development and maturation. Stem rot and leaf spot have been controlled well. Fungicide applications for Sclerotinia blight have been effective and current temperatures have reduced incidence and severity of this disease. Peanut vines continue to be in good shape going into the latter part of the first week of September (figures 1-3). However, some tomato spotted wilt has been noted in fields planted with Sugg and CHAMPS but little to no negative impact has been noted for the variety Bailey (approximately 75% of the Virginia market type acreage is planted with this variety). Regrowth following multiple applications of Apogee has been observed in some fields (figures 4-7).
The majority of peanut in the upper V-C are 2 to 3 weeks from optimum maturity for digging even when planted in early May (figures 8-11). Maturity for Bailey and Sugg as well as the high oleic varieties Sullivan and Wynne is generally similar (figures 12-15). However, growers will be assessing maturity in a comprehensive manner over the next two weeks. Peanut in the lower V-C are more advanced in maturity than those in the mid and upper V-C, however, drier conditions were experienced in the lower V-C earlier in the growing season and may have affected maturity. A great deal of income can be obtained by digging peanut at optimum maturity (figures 16 and 17).
There are 4 to 6 weeks remaining for the 2014 peanut crop in the V-C region. Peanuts in the V-C region continue to be poised to yield well depending on weather. Acreage projection is 205,000 acres or 83,000 hectares in the region (slightly higher than previous projections). Average yield potential is estimated at approximately 4,000 pounds per acre but could be reduced if extended dry weather occurs over the next three weeks.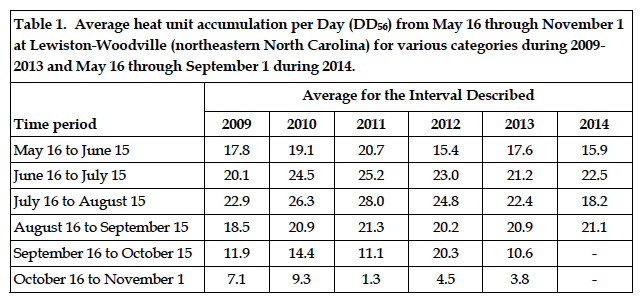 Article first appeared as North Carolina Peanut Note (PNNC-2014-132 )